Hotels and other Accommodation
World Nomads
The Travel Insurance with the largest coverage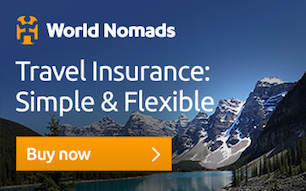 ---
Weather
Continental climate. Winter is cold, with plenty of snow and sub-zero temperatures. Spring and autumn are mild, with temperatures between 8º and 15º. Summer is hot and dry, with temperatures between 28º and 32º.
---
Official language
The official language is Slovak. Hungarian (mainly in the south of the country) and Czech are also spoken.
---
Local currency
The official currency is the euro. In large establishments, major credit cards are accepted.
---
Travel documents
EU nationals do not need a visa and it is sufficient to enter a valid identity card / citizen card to enter Slovakia. However, holding and presenting a valid passport may prove helpful.

Non-biometric temporary passports are not accepted.
---
Security
Security conditions are reasonable. In large urban centers there is a small crime. In tourist towns, large cities and on public transport, small thefts can occur, and it is not advisable to walk with valuable objects and with a lot of money. If you are traveling by car, it is suggested to leave it in the car parks.
If you want to ski or take a walk in the Slovak mountains, be aware that if you have problems and call the Slovak Mountain and Security Service, you will need to cover all costs. Before traveling, it is advisable to take out insurance that covers similar situations.
Emergency telephone numbers:
- Emergency Number: 112;
- Police: 158;
- Fire brigade: 150;
- First Aid: 155;
- Road Service: 18123;
- Police for Foreigners: 0961;
- Telephone numbers in the Slovak Republic: 1181;
- International telephone numbers: 12149;
- Tourist Information: 16186.
---
Health and vaccination
The sanitary network is reasonable. It is advisable to take out health insurance before traveling.
---
Communications
Good fixed and mobile telephone network. You can use mobile phones while roaming (ask your service provider). Internet use is widespread.
---
What to do
Explore its picturesque historic cities and notable monuments of world importance. Experience the inimitable tastes of regional specialties and traditional national cuisine. These are just a few lines from the fascinating book written by the nature, history, culture and traditions of Slovakia. Want to know more? Visit cultural events in various parts of Slovakia and experience something unique that you will not find anywhere else.
---
Tourist points
Bratislava, Tatras, Spiš Castle and more
You must visit at least three of these places to be able to say that you have experienced Slovakia. The most interesting cities with a unique nature, spas and UNESCO sites that have survived centuries. Slovakia's tourism opportunities are rich and varied. Come enjoy something you won't find anywhere else!
Popular regions include Liptov, Spiš or Orava; however, you can find a unique untouched nature, along with breathtaking traditions, specialties and culture, also in the Gemer or Horehronie regions.
Slovakia is unique. Ideally located in the heart of Europe, several thousand years of history and the influence of neighboring nations have left Slovakia an immense cultural heritage: Celtic settlements, Roman fortifications, Slavic places of worship, mansions, fortified castles of the Hungarian nobility, cities of medieval mining, renaissance and baroque palaces and greek, catholic and orthodox churches.
Majestic treasures, impressively embedded in stunning natural landscapes, hiding the secrets of the ancient past. Castles, palaces, mansions and their ruins have always been an integral part of Slovak history. Once seated by famous rulers, resisting enemy attacks and hosting significant historical events, they still maintain an atmosphere of fame, elegance and romance.
The diverse architecture and artistic styles reflecting different historical periods offer visitors unique experiences to this day. They have their stories and mysterious legends. Immerse yourself in them.
You will instantly fall in love with the nature of Slovakia. Discover its beautiful and extraordinary landscapes. It is not just the Tatras - the smallest mountain range in the world - the largest karst region in central Europe, or virgin forests. There are nine national parks that will provide fascinating and unusual experiences.
---
Presentation
Slovakia, whose official name is Slovak Republic, is a country in Central Europe. It is bordered by the Czech Republic and Austria to the west, Poland to the north, Ukraine to the east and Hungary to the south.
Slovakia is a special country. Even in such a small area you will find everything from natural treasures and historical monuments to rich folk culture and modern entertainment in the bustling city streets. Enjoy the beauty and unique atmosphere that Slovakia has to offer. Explore its splendid natural surroundings, rich history, culture and traditions. Simply discover Slovakia ...
---
Other tourist destinations in:

Slovakia
---
Other world tourist destinations
---
City destinations and weekend getaways
---
Why to book with BOOK HOTEL PORTUGAL
The best prices
Our partnerships with the world´s largest operators offer research on the best market prices.
More options
At Rotas Turisticos you can book the hotel, buy the air ticket, book the transfer from the airport to the hotel and vice versa, book the local excursions, rent the car, take travel insurance and consult the places to visit and where to go.
Holiday Tips & Destinations
Hundreds of holiday destinations with all the options that allow you to easily choose the destination that best suits your dream vacation.
---
---