Hotels and other Accommodation
World Nomads
The Travel Insurance with the largest coverage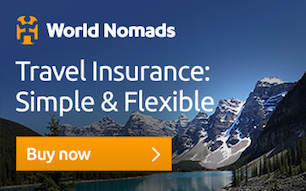 ---
Official language
The official language is Estonian spoken by 68% of the population. Other languages: Russian (25.6%), Ukrainian (2.1%) and Finnish (0.9%). English-speaking tourists will not find it difficult to make themselves understood in the large cities Tallinn, Tartu and Pärnu, in cities along the eastern border such as Narva or Kohtla-Järve.
---
Local currency
The currency unit is the Euro (Euro).
Banks are open from Monday to Friday from 9.00 to 16.00h.
ATMs: accept at least the following cards: Visa, Visa Electron and Maestro.
---
Weather
O clima da Estónia é temperado, caracterizado por verões quentes e Invernos não excessivamente frios. A temperatura média máxima no verão é de cerca de 21°C (Julho) e de –14°C (Janeiro) no Inverno. Ocasionalmente as temperaturas podem subir no verão aos 30°C e no Inverno o termómetro descer aos 23°C negativos.
---
Travel documents
Although no visa is required, you need a valid identity card / citizen card. If you wish to stay in Estonia for more than 90 days you will need a business visa or a residence permit.
---
Security
Estonia is a safe country and there are no particularly risky areas in Estonian territory. As in any country or city with a high tourist turnout, and particularly in the historic center of Tallinn and surrounding areas, it is advisable not to leave unattended personal property, luggage, personal computers, mobile phones or others of significant material value.
Documentation and bank cards should, if possible, be kept in the hotel safe or in a safe place.
Caring for personal property must be redoubled in public transport, hotel, restaurant, train station, airport, or shopping center areas, all with considerable influx of people.
Emergency telephone numbers:
- Police - 110
- Emergency Medical - 112 (ambulance, fire brigade).
---
Communications
Public telephones operate with coins or cards (they are for example sold at kiosks or post offices). The mobile phone network covers virtually the entire country. Before you travel, consult your company in your home country for the compatibility of your mobile phone.
---
Health and vaccination
It is advisable to obtain comprehensive travel insurance before commencing travel.
International vaccine certificates are not required from travelers, but travel insurance is advised to cover most of the possible risks. If you plan to visit wooded areas in the interior of the country, especially in summer, it is recommended that you get vaccinated against encephalitis, diphtheria and hepatitis A.

Addresses of the main Hospitals and Clinics:

Tallinn:
- First Aid: +372 6971145 (service available in English);
- Central Hospital: +372 666 1900 - www.keskhaigla.ee;

Pharmacies: search sign in Estonian APTEEK.

Eg on Tõnismägi 5, Tel. (00372) 6442282, there is a 24-hour pharmacy, Tõnismäe Südameapteek.

Dentists: eg Eurodent (00372) 6115551.
---
How to get
Traveling to Estonia is quick and convenient thanks to frequent connections with Scandinavia, Russia, Eastern and Central Europe. You can fly to Tallinn with a number of direct routes from Amsterdam, Frankfurt, Istanbul, London, Paris, Vienna and many more cities. Ferry routes connect Tallinn with Helsinki, Stockholm and Saint Petersburg. Travel by international coach from virtually any country in Europe Ecolines with Lux Express and Eurolines. Arrive by train with Go Rail from China, Mongolia, Central Asia, Ukraine, Moldova and more.
---
Gastronomy
Estonian food derives from ancient traditions and pure nature. Although affected by numerous cultures, the food has retained its authentic Estonian flavor. Estonian cuisine is attractive and distinctive, the love of Estonians for pure and local food is well known.
The most traditional products of Estonian kitchens are rye bread, meat, milk, vegetables, fish and various forest products. Interest in organic foods is becoming increasingly prevalent.
Traditional cuisine is not respected on a daily basis, however, people will certainly do so on folk holidays, the most significant being Christmas and New Year. Beef jelly, roast pork or goose, baked potatoes, sauerkraut, blueberry jam and blood sausages are undoubtedly the basic dining table items these days.
There are many different and distinctive restaurants throughout Estonia offering characteristic area ingredients and national cuisine dishes that have been excitingly modernized.
---
Tourist points
There is no doubt that Tallinn is Estonia's largest tourist center. The historic old town, with its many sights, is one of Europe's most impressive medieval monuments. At the same time, the growing economic metropolis is the only traffic crossing in the country and provides its visitors with numerous international and regional transport connections. However, the rest of the country is much calmer. In fact, cities such as Pärnu, Tartu or the small town Otepää, famous for being a winter sports resort, are starting to become internationally known.
In short, Estonia presents itself as an attractive mix of few metropolitan cities and countless beautiful landscapes. Tallinn can be the starting point for an interesting trip around the country, preferably in summer. It would also be very helpful to get some theoretical knowledge before the trip.
Without a doubt, there are many lovely and interesting places to discover in Estonia. Far from the disturbing mass tourism and the bustle of typical holiday destinations, Estonia offers its visitors several positive impressions. In short, Estonia is definitely worth a visit!
---
Presentation
Estonia is one of the three Baltic States, situated in Northern Europe, consisting of a continental portion and a large archipelago in the Baltic Sea. Estonians are an intimate Finnish people who are ethnically linked to Finns and Lapps. The country has cultural and historical links with the Nordic countries, particularly Finland, Sweden and Denmark.
Estonia is home to some of Europe's and the world's most impressive natural and artificial wonders. A short distance separates cities from nature. The versatile cultural heritage and seasons make each visit unique. Estonia attracts with its clean environment, diverse culture and good food.
---
Other tourist destinations in:

Estonia
---
Other world tourist destinations
---
City destinations and weekend getaways
---
Why to book with BOOK HOTEL PORTUGAL
The best prices
Our partnerships with the world´s largest operators offer research on the best market prices.
More options
At Rotas Turisticos you can book the hotel, buy the air ticket, book the transfer from the airport to the hotel and vice versa, book the local excursions, rent the car, take travel insurance and consult the places to visit and where to go.
Holiday Tips & Destinations
Hundreds of holiday destinations with all the options that allow you to easily choose the destination that best suits your dream vacation.
---
---