Hotels and other Accommodation
World Nomads
The Travel Insurance with the largest coverage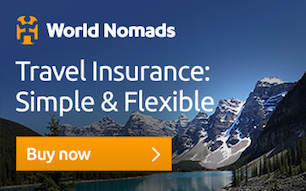 ---
Barbados
Barbados, 34 kilometers (21 miles) long and up to 23 kilometers (14 miles) wide, covering an area of ​​432 square kilometers is the sovereign island country in the Lesser Antilles located in the easternmost part of the Caribbean, situated in the western region of the Atlantic North and 62 miles east of the Windward Islands and the Caribbean Sea and about 104 miles east of the islands of St. Vincent and the Grenadines and 250 miles northeast of Trinidad and Tobago.
Barbados is off the main hurricane belt.
The area is known as the West Indies. Its capital is Bridgetown.
The island of Barbados is one of those idyllic places that many are looking for, having nothing better than spending the day on a white sandy beach, relaxing while admiring the shade of blue of the Caribbean sea or having fun in one of the hundreds of attractions in the country which exudes colors, joy, sounds, spices and stories.
---
Tourism
Barbados can be a paradise for lovers of the dozens of beaches, but there are many more things to do in Barbados apart from swimming and sunbathing. This small island offers an amazing array of activities for both families as well as couples and singles.
Beach lovers will be at your element on the stunning West Coast, with its crystal clear waters and soft, fine sand. You can also unwind with a relaxing spa treatment in one of the excellent spa hotels, a therapeutic shopping trip, perfect golfing on the golf course or eat freshly caught fish on a sun-drenched terrace at a seafront restaurant .
---
Weather
The country is divided by two climatic seasons, one of which includes visibly strong rains. Known as the rainy season, this season runs from June to November.
In contrast, the dry season occurs from December to May.
From December to May the average temperature is 21-31 ° C (70-88 ° F), while between June and November it ranges from 23-31 ° C (73-88 ° F). [32]
Uncommon natural hazards include: earthquakes, landslides, tropical cyclones and hurricanes. Barbados is often spared the worst effects of the region, from tropical storms and hurricanes during the rainy season.
The Far East's location in the Atlantic Ocean puts the country outside the main hurricane action zone.
---
Gastronomy
The gastronomy of Barbados is very tasty, varied, colorful and who knows it strongly recommends it. With dishes, mostly seafood based, sophistication does not miss the island's typical flavor in the dozens of excellent restaurants that are all over the island.

As a coastal area it is, Barbados offers a wide range of dishes, prepared with the most varied marine animals.

Typical Barbadian dishes include gilthead, tuna, turtle, flying fish, the much-loved sea eggs, and marinated sea urchin roe.

In fish-free cuisine, the cou-cou, prepared with corn flour, okra and roti, is an Indian dish consisting of meat with curry, wrapped in a chapate and accompanied by a mixture of corn flour with coconut, raisins, potatoes, and seasonings served on banana leaves.

Anyone going to Barbados, can not fail to try the rum, much appreciated and used in these "West Indies".

Curacao liqueur, which is also one of the drinks of choice for these islands, and for non-alcohol lovers, Barbados offers Mauby, made with cork, sugar and seasoning.
---
Currency
Barbadian or Barbadian Dollar
---
Official language
English
---
Documentation required
Conditions of entry and stay
 At the time of entry, travelers must have a passport valid for the duration of the stay and a ticket leaving the country.
 
Visa regime
 Passport holders from the European Community, Latin America, USA and Canada do not require a visa for stays of less than 90 days.

Other countries should contact their Barbados Consular Services.
---
Health care
As the island has yellow fever disease eradicated, tourists must provide the International Certificate of Vaccination Against Yellow Fever.

The vaccine must be taken at least 10 days before shipment.
 
The services and medical facilities are reasonable, especially me Bridgetown, but serious cases and very specialized treatments may require evacuation. Private services tend to be very expensive, especially in cases of hospitalization. It is advisable to take out travel insurance that covers all medical expenses, including repatriation or evacuation to another country.
 
There have been cases of dengue in the country, so you should take precautions against mosquito bites, in particular the use of repellent products. The use of de facto sunscreens is also recommended.
---
Safety conditions
The crime rate in Barbados is relatively low, despite an increase in small offenses. Tourists can be affected mainly by opportunistic robberies, so some preventive measures are recommended:
- avoid isolated areas, including beaches, after dark;
- avoid walking alone at night;
- not carry large amounts of money or display jewelry or other valuables;
- maintain a discreet attitude in the use of ATMs, avoiding it in poorly lit or isolated areas;
- store valuables and travel documents in safes, wherever possible;
- keep the doors of the hotel room always locked;
- use only taxis duly registered and identified;
- to adopt responsible behavior, respecting local laws and customs;
- in case you are faced with an attempted theft, do not offer resistance.

Other important information
 
Possession or consumption of drugs are severely punished by law. Therefore, it is recommended:
- never accept requests for the transport of hold or hand luggage belonging to third parties;
- at check-in check if checked luggage is your property;
- on arrival at the destination check that the luggage has been handled and / or has forced-opening signs;
- do not accept requests to carry cash.
 
Travelers must respect local customs. The beach attire is not suitable for the city, restaurants and shops. The use of camouflage clothes and objects in this pattern, including by children, is considered a crime.
---
Other world tourist destinations
---
City destinations and weekend getaways
---
Why to book with BOOK HOTEL PORTUGAL
The best prices
Our partnerships with the world´s largest operators offer research on the best market prices.
More options
At Rotas Turisticos you can book the hotel, buy the air ticket, book the transfer from the airport to the hotel and vice versa, book the local excursions, rent the car, take travel insurance and consult the places to visit and where to go.
Holiday Tips & Destinations
Hundreds of holiday destinations with all the options that allow you to easily choose the destination that best suits your dream vacation.
---
---