Hotels and other Accommodation
World Nomads
The Travel Insurance with the largest coverage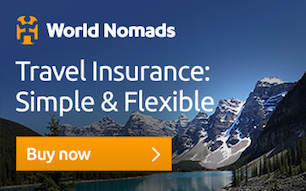 ---
Tanzania
Tanzania officially United Republic of Tanzania is an East African country, bordered to the north by Uganda and Kenya, east by the Indian Ocean, south by Mozambique, Malawi and Zambia, and west by the Democratic Republic of Congo (border exclusively Lake Tanganyika), Burundi and Rwanda. The country also includes the Zanzibar archipelago in the Indian Ocean.

The United Republic of Tanzania is a unitary state made up of 26 regions. The official capital has been Dodoma, where parliament and government offices are located. Between independence and 1996, the largest coastal city of Dar es Salaam has been the country's political capital and currently remains the principal city and de facto site of most government institutions.

The name Tanzania is a junction of Tanganyika and Zanzibar. The two states were united in 1964, forming the Republic Unit of Tanganyika and Zanzibar, which later in the same year was renamed to the current name.
---
Documentation
Visa is required. Multiple-entry and longer-term visas must be obtained from Tanzanian diplomatic representations. Single-entry tourist visas may be purchased at airports upon arrival provided all other entry requirements (form completion, valid passport, return ticket, hotel reservation, compulsory vaccination) are met. Please note that, depending on the type of flight ticket, you may also have to pay an airport tax outside Tanzania or between Zanzibar and the mainland (around USD 30 and USD 5 respectively, although prices may change). Always have a few US dollars available in banknotes. Other currencies or credit cards are not generally accepted.
---
Official language
Swahili, English
---
Currency
Tanzanian Shilling
---
Tourism
The African country is the right choice for those who like to explore nature. Divided into 26 regions, the nation includes the beautiful beaches of Zanzibar Archipelago, home to the Stone Town, a former shopping center that forms a maze of historic buildings. Arusha, the capital of the eponymous region, is close to some of the best attractions. A Serengeti safari is mandatory, which unfolds in national parks and concentrates large numbers of mammals. There, an operator also offers balloon flights. The Ngorongoro Crater, one of the largest intact boilers - a collapsing volcanic structure - in the world, can be considered one of Tanzania's most amazing places of natural beauty. Between these two points, it is worth stopping at Lake Manyara National Park, located below cliffs. Colorful birds and baobab trees are some of the charms of the place. There is the option of taking on an expedition to climb points such as Mount Kilimanjaro - the highest point in Africa with its 5985 meters of altitude and less and less 'everlasting snow' - and Mount Meru for a memorable experience. In Tarangire National Park, two more good examples of the vastness of the African savannas and the diversity of wildlife.

To explore the country many tourists do not give up the comfort of well-equipped lodges, with all sorts of facilities to welcome the well-heeled safaris in search of beautiful animals such as elephants, cheetahs, lions and buffalo, and gigantic wildebeest herds. , zebras, impalas and antelopes.

However, one of the most rewarding experiences of this journey is to know a little about the culture and customs of the Masai people. The lifestyle of these shepherds has been hampered by government measures that prevent them from entering their ancestral lands (to protect the Ngorongoro region, by the way) and what is left are bizarre sightseeing tours to see their dances. Whether taking part in these tours or having more authentic experiences, it is good to reserve respect for these brave savannah men and women.

THINGS TANZANIA IS FAMOUS ...

Serengeti's great animal migration, Mount Kilimanjaro, the delicious coffee, the Ngorongoro Crater, the Zanzibar Islands and ... Farrokh Bulsara, a local singer best known to his fans as Freddy Mercury.
---
Gastronomy
Tanzania is a cosmopolitan country whose cuisine is a fusion of cultures and tastes, Asian traders, European settlers, indigenous Africans, who among them have made this country one of which has a most diverse and varied cuisine, a most delicious cuisine, of a large part. of the continent.

In cities such as Dar Es Salaam or Zanzibar Island you will find all kinds of restaurants that have settled in these destinations, European restaurants, with a special emphasis on German, Italian or Anglo-Saxon cuisine, Asian cuisine, American cuisine.

Remember that especially in Zanzibar, the religion is Muslim, so you will not find pork in almost any restaurant in the area.

If you leave the main tourist destinations such as Tanga, Zanzibar and Dar Es Salaam, you will find more local cuisine with fish dishes that is a main ingredient, especially in the coastal areas of both the Indian and Lake Tanganika and Lake Victoria where Perca do Nile is one of everyone's favorite dishes and one of the region's delights.

Natural products, vegetables and tropical fruits are also foods that you will find in every corner of the country of Tanzania, a place where eating is a pleasure.
---
Weather
Temperate tropical climate in the highlands and humid equatorial on the coast. The temperature decreases with altitude, so the climate is warmer off the coast of Tanzania than on the plateaus. The rainy season lasts from March to April with cool and sometimes cold nights. In Tanzania it also rains in November and early December. The dry season begins in May and ends in October. The highest temperatures arrive between December and February.
---
Security
Security conditions are reasonable.
While not reaching the levels of other countries in the area, crime can be a problem in Tanzania, particularly in urban and bathing areas. You should avoid carrying valuables in sight, and when driving, make sure all doors and windows are closed. It is also advisable to organize group trips and trips or at least to consult the hotel or travel agency about the particular safety conditions in the area to be visited. Store your goods, including passport, in the hotel safe. Since walking with identification is required, when leaving the hotel please bring a photocopy of your passport.
Preferably use means of transport recommended by hotels or travel agencies. Please confirm that you will be able to identify the hotel driver who picks you up from the airport. Avoid road trips at night if possible.
Travel to the west of the country, close to the borders with Burundi and Rwanda, is not recommended. The existence of refugee camps in this area increases the risk of armed gang robbery.
The islands of Zanzibar, an autonomous state within Tanzania, are also reasonably safe, but avoid strolling alone on deserted beaches.
Nature parks are generally safe as long as they follow the recommendations of the guides and do not get too close to wildlife.
---
Health
Vaccination against yellow fever is mandatory. The presentation of vaccination certificates is sometimes requested. Malaria prophylaxis is recommended. Avoid consuming raw or undercooked foods and drinking non-bottled water. Always wear light but long, insect repellent clothing to avoid mosquito bites or, in some parks, tsetse flies (sleeping sickness). Do not bathe in freshwater rivers or lakes due to the presence of parasites in the water. Check with your doctor to see which vaccines you should take or update before traveling to Tanzania. Levels of HIV infection reach about 6% of the adult population, so special precautions should be taken. Complete health insurance valid in Tanzania including repatriation should be required.
---
Telecommunications and Electricity
Electricity
The electricity is 230V and 50 Hz.
It is advisable to have a universal outlet adapter kit.


Telecommunications
Difficulties in accessing the international telephone network are normal.
---
Other tourist destinations in:

Tanzania
---
Other world tourist destinations
---
City destinations and weekend getaways
---
Why to book with BOOK HOTEL PORTUGAL
The best prices
Our partnerships with the world´s largest operators offer research on the best market prices.
More options
At Rotas Turisticos you can book the hotel, buy the air ticket, book the transfer from the airport to the hotel and vice versa, book the local excursions, rent the car, take travel insurance and consult the places to visit and where to go.
Holiday Tips & Destinations
Hundreds of holiday destinations with all the options that allow you to easily choose the destination that best suits your dream vacation.
---
---